2023 Renovation Design Trends & Ideas: Our Designers' Vision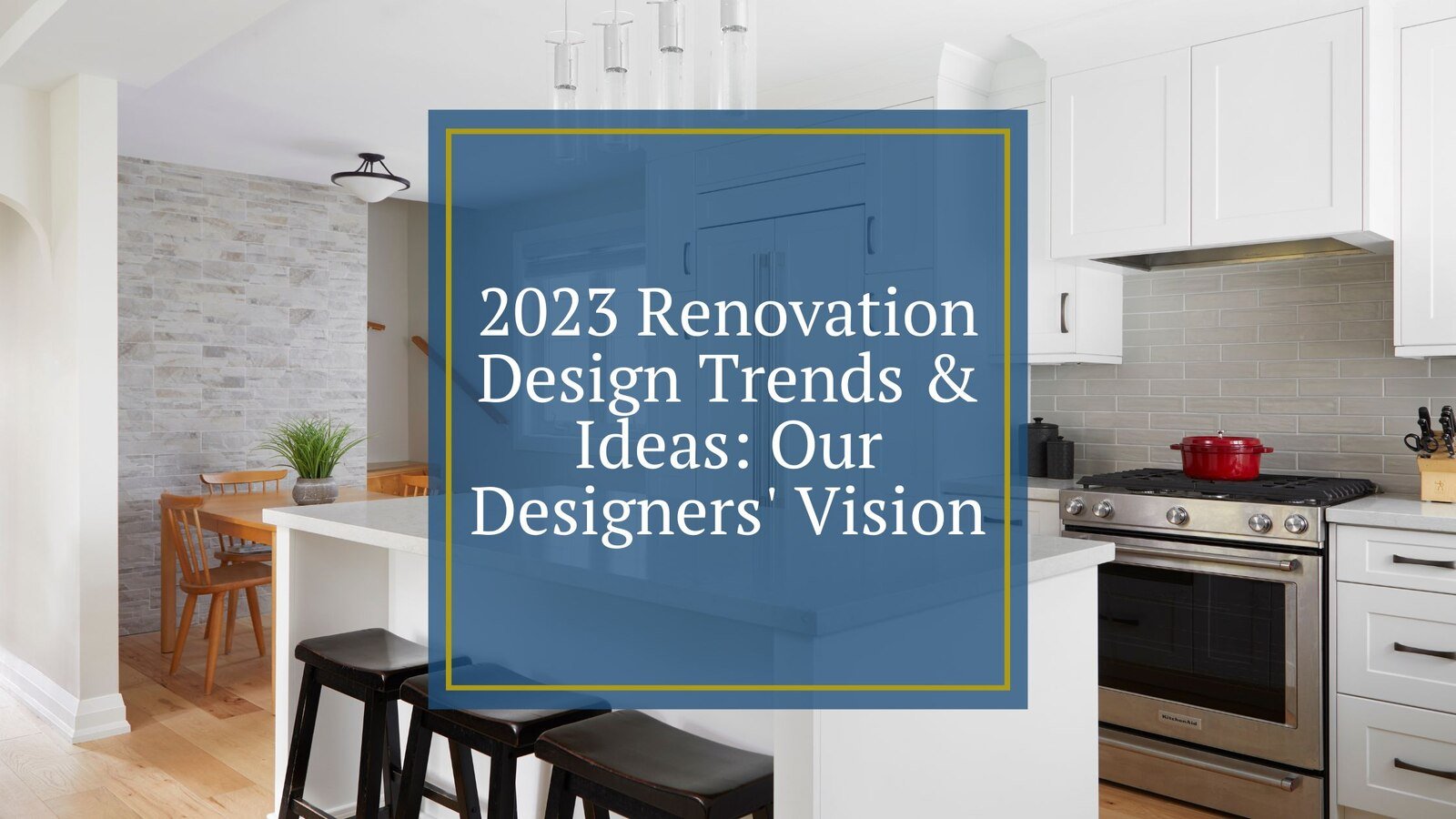 Master Edge Homes values the influence good design can have on the built environment. A home's design can affect your mood, how well prepared or disorganized you feel going into your day, and even your quality of sleep. That's why we sat down with our in-house design team –Nathan, Natalie, and Candice–to ask them for advice on the trends of 2023 that will improve your interior environment through style.
Continuing Colour Trends into 2023: Blues and Greens
Blues and greens in shades that mimic nature offer calmness and grounding and have been trending for the past few years, but even more so this past year. They've risen higher in popularity than grey as the go-to colour for interiors. They also offer more personality, which can feel a bit too bold for some, so consider other ways to incorporate these feel-good shades that can be easily updated when you're ready, like on the bathroom vanity, upholstered furniture, or your kitchen island.
Q: Green and blue are predicted to trend again this year - how do you recommend using those colours in a home design?
Natalie: Green is definitely trending, Benjamin Moore's Peale Green or High Park works well for kitchen cabinet
Candice: I would implement green and blue in cabinetry for kitchens and vanities for bathrooms. Then we could also consider these colours to be an accent or feature for tile designs.
Nathan: Mint green cabinetry works well in a farmhouse kitchen designs.
Want to Add Style? Just Look Up
The ceiling is an untapped source of style and could make a room feel more grand, cozy, or warm. Add personality to your ceiling using our designers' expertise.
Q: Dramatic ceiling features are popular now. What ceiling features are popular in your market and what is your opinion on coffered and beamed ceilings? Any other ideas you love?
Candice: I am truly in love with the large hewn beams for ceiling features. Coffered ceilings are nice but I find it lends itself better to traditional design. I tend to lean toward a more modern farmhouse style.
Nathan: Shiplap applied to ceilings is a timeless look that can be utilized if a vaulted or flat ceilings application. It's also a great way to update an existing stippled ceiling.

Go Bold With New Trending Colours
Bold colours can energize a space. To go bold with your colour choices, check out these 2023 trending tones.
Q: Lavender and pink are big in home design magazines. How do you feel about those colours and how would you integrate bold colours into a home design?
Natalie: I love bold colours on a feature wall; to go with something dark that can create contrast.
Candice: Lavender and pink are great colours in a home. They actually complement aged brass and stained brass materials exceptionally well. They could be used in wallpaper, fabrics on furnishings, or tiles.
Nathan: Pink can be a bit of a scary colour to commit to in cabinetry and paint. However, artwork and décor that has pink can be a nice feature.
Everything's Cooler With a Dimensional Accent Wall
An accent wall in a room acts as an anchor, a focal point. In the living room, your bedroom, or the wall behind your freestanding bathtub, an accent wall just adds a little something special.
Q: Dimensional accent walls are having a moment. What are some benefits of this and how do you work accent walls into a design?
Nathan: I personally feel like the dimensional accent walls trend is on its way out. More subtle wall accents, like clean vertical or horizontal lines in proper proportions such as wainscoting or panelling, will always be sought after. Walls like this have much better symmetry and can be coordinated with a furniture piece and sconce lighting.

Experience the Outdoors from Inside Your Home
Biophilic design also rose in popularity over the past few years, in a big way. You can get the mental and physical benefits from flora and fauna in lots of different ways.
Q: Natural and biophilic design is still important. Is this requested in your market? How do you like to bring the outdoors in when designing a space?
Natalie: Use bigger patio doors, sun tunnels and skylights to bring more lights in.
Candice: I strongly agree with bringing the outdoors into our interior living spaces. There is a natural and organic feel to a space that feels alive with these textures and layers in place. It is inviting and comfortable. Large picture windows will create a view from the inside looking out. Allowing you to feel the outdoors as if it were to be a part of your interior living space.
Nathan: When I think of biophilic design, images of large interior living walls and creeping vines come to mind. This can be hard to implement in your typical Markham home. Committing that much space to a future wall can be challenging. Alternatively, implementing green house windows, potted plants, and working with sightlines to exterior natural elements is a more budget and space-friendly solution.

Adding Drama With Contrast
It's not only bright colours that add boldness and energy to a space. Stark contrasts have the power to create visual tension. Add it in small doses or turn up the tension with big applications.
Q: Dramatic black and white monochrome is expected to trend–how do you add visual interest to a minimal colour palette?
Natalie: Adding wall details/panelling (slat walls) makes these colours more interesting.
Candice: I am on board with the dramatic black and white monochromatic designs. It's finding out what your client enjoys when it comes to a pop of colour implemented in toss cushions or throw blankets. Could be the use of art, this is where colour can carry a room entirely.
Nathan: Detail. High level of fine detail can lend visual interest.
Wellness Through Design
What wellness means to you might be very different than what it means to someone else. Ask yourself what your needs are to feel most comfortable in your space.
Q: Design that promotes well-being is "in". How do you work with clients to determine lifestyle needs and work their well-being into a design?
Candice: We have a discovery meeting to go through a list of questions to define what they like and dislike. What are their favourite colours? What are their interests? These questions are critical when getting a full understanding of their needs and wants. This also helps us define their aesthetic. Through our discovery meeting, we want to ask as many questions as possible. Defining what drives them, what are their interests, do they travel, what inspires them. What does their dream space look like? These are critical when designing for our clients, to achieve an outstanding finished product.
Nathan: When we meet with our clients it's important to be observant of their needs. Do they have assisted walking implements? Are they leaning heavily on surfaces when standing? Do they have respiratory needs? These are important things to look at when we are designing stairs, seating, and air quality systems.

Kitchen Backsplashes Ideas for 2023
Kitchen backsplashes are another great way to infuse some trendy elements into your home—and without going too over-the-top if you lean more conservative. The industry today offers a wide range of options, including granite, marble, or a mix of glossy and matte (from small tiles to one large slab). And going back to the subject of colour, homeowners also have a ton of choices with backsplashes. For a little updated version of the trend, however, we are seeing this feature trickling upwards to cover the entire wall leading up to the ceiling.

Wood Design Trends This Year
Perhaps taking a little cue from the 1960s, which was certainly adventurous in-home décor ideas, wooden accents are resurfacing in a big way. From bathtub "aprons" (the full exterior of the tub) to your kitchen range hoods, a little wood adds a little something unexpected and earthy. Butcher-block kitchen countertops and kitchen islands can also provide a nice blend of rustic chicness and contrast, not to mention durability.

Find Your Joy & Try New Trends in 2023
Try a new trend by dipping your toe or diving headfirst. There's no right level of commitment when trying new things, it's all about your own comfort; but also look to designers for suggestions on how and where to try out new trends.
Q: What design trends or home features do you hope people will try in 2023?
Natalie: I would love to try a modern minimalist or luxurious contemporary design.
Candice: To live with more colour. To not be afraid, embrace what makes them feel happy, most often a room with colour brings some sort of joy or a sense of vibrancy.
Nathan: Interactive wall panels, whether it be mechanical or electronic. The way we interact with our built environment leaves much to still be explored.
Interested in talking to our designers about your style goals? Get answers to design questions, upcoming style trends, and solutions to your interior design dilemmas. Contact Master Edge Homes today to schedule a consultation.
Related Articles