Create the Perfect Cooking Space
Markham Kitchen Renovation Services
Your kitchen just may be the most versatile space in your home. More than just a room to prepare food, the kitchen is the ideal spot to entertain friends, help your kids with their homework, pay bills and relax at the end of a long day. Unfortunately, it's not easy to cook nutritious dinners when your ancient appliances refuse to cooperate or your counter space is limited.
No matter what the age or size of your home, a kitchen renovation makes sense if the room is tiny, outdated, unsafe, or no longer fits your lifestyle.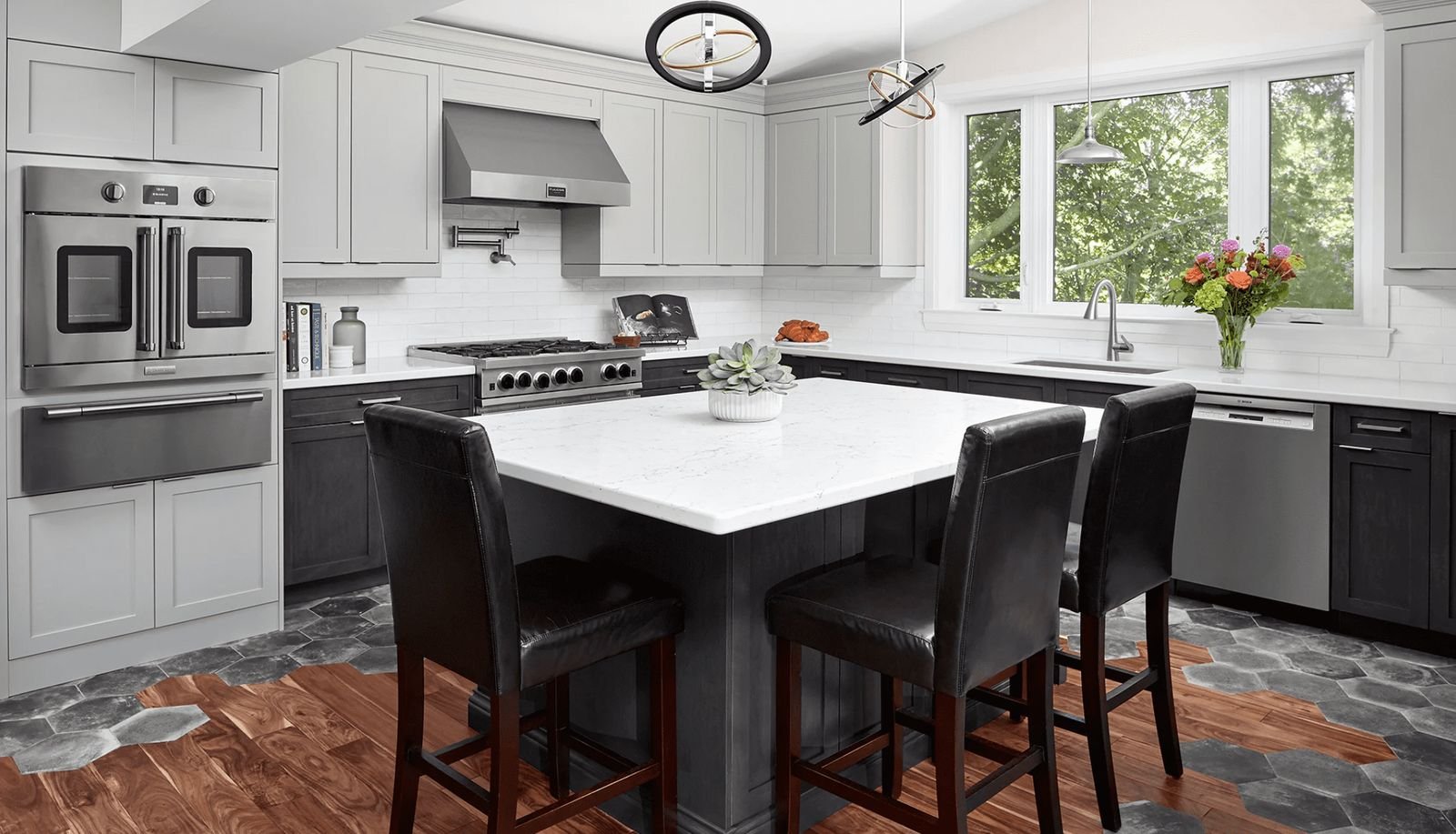 DOWNLOAD 2023 RENOVATION PRICING GUIDE
Top Custom Kitchen Renovation Benefits
Increased Space for Cooking and Entertaining
If you live in an older home, you've probably wondered how previous generations made meals in such a small or poorly designed kitchen. As appliances became bigger and better over the years, kitchens that seemed perfectly adequate suddenly felt much too small. Luckily, a renovation will solve your space issues if you're lacking countertop space or don't have a convenient place to store small appliances and canned goods.
Space can be a problem in newer homes too. When you bought your house or condo, you may have had to compromise on kitchen size to get the other features you wanted. Depending on the size of your home, you may be able to borrow space from an adjacent room to expand your kitchen. If that's not an option, a kitchen addition may be an excellent choice.
During your Markham custom kitchen renovation, you can:
Create a kitchen island that serves as a space for meal preparation, homework, and casual conversation
Expand storage capabilities and meal prep and cleaning options with a butler's pantry
Install additional sinks and dishwashers
Remove walls to create an open floor plan
Put in a comfortable seating area
Add large windows or doors that offer a panoramic view of your yard
Improve the comfort of your kitchen with heated floors
Elegant Finishes and Style Upgrades
Kitchen trends and styles constantly evolve and change. A kitchen that may have seemed modern and inviting 15 or 20 years ago might feel dated today. New countertops, cabinets, flooring, appliances, lighting, paint, windows, and doors can completely transform your kitchen. Not sure which features to include? We'll help you explore all the possibilities and show you how we've helped other homeowners upgrade their kitchens.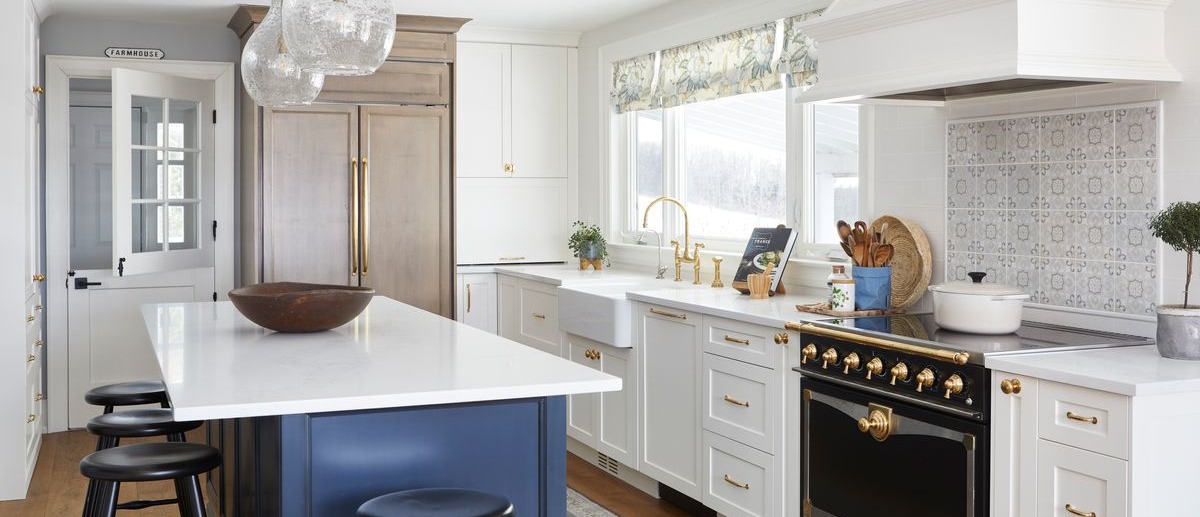 New Appliances and Technology
Daily wear and tear take a toll on kitchen appliances. After years of use, efficiency tends to decline, which may mean that the dishwasher doesn't clean quite as well or the food on the upper shelf of your refrigerator freezes. Instead of finding increasingly creative ways to handle these problems, why not replace your aging appliances with brand new ones during a kitchen renovation?
Thanks to advancements in kitchen technology, new appliances are more efficient and use less energy than older models. High-tech refrigerators automatically adjust temperature and humidity, while energy-efficient dishwashers get your dishes sparkling clean without wasting water. Want to get food on the table a little quicker at the end of the day? Swipe an app on your smartphone, and your oven will preheat during your commute.
A Custom Renovation Improves the Safety of Your Kitchen
Leaky pipes and quirky electrical systems aren't just inconveniences. Leaks can lead to mould, while outdated or damaged wiring can increase the risk of a house fire. During your renovation, we'll assess the safety of your kitchen and make changes to update the room and bring it up to code.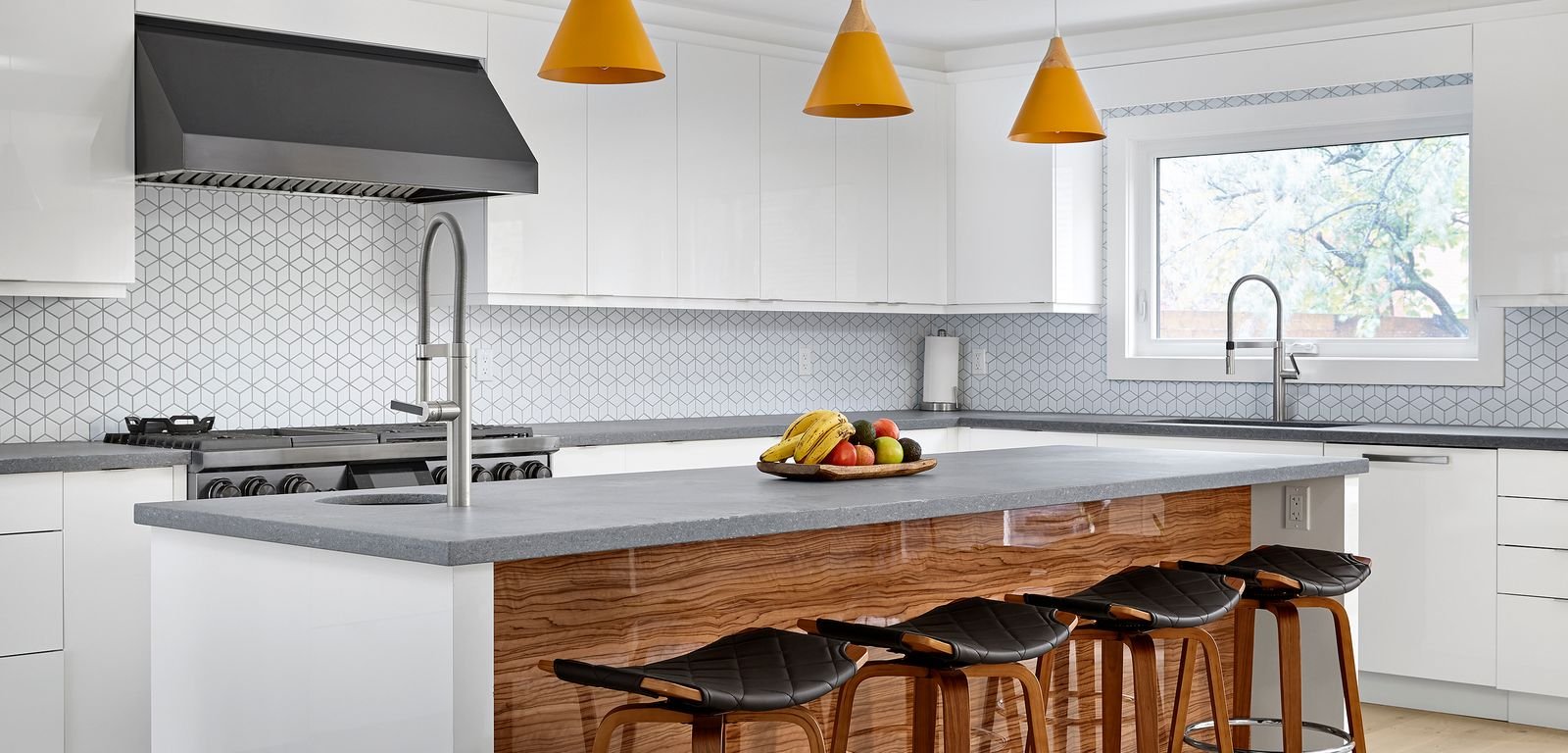 Aging-in-Place Options for Custom Kitchens
Are you planning to continue to live in your home after you retire? Adding aging-in-place features, commonly called universal design, will give you the flexibility you need to safely use your kitchen if your needs change. Helpful aging-in-place features include:
Non-slip floor tiles
Anti-scald faucets
Easy-to-operate light switches and door and faucet handles
Low maintenance finishes
Additional lighting
Varied height cabinets and countertops that accommodate wheelchairs
Pull-down shelving in kitchen cabinets
Raised dishwasher
Roll-under sink
Cabinets with drawers rather than doors
Aging-in-place features don't have to give your home an institutional feel. In fact, universal design kitchens can be just as stylish and attractive as rooms that don't include these features.
Increased Home Value
Upgraded or expanded kitchens not only improve your enjoyment of your home but also increase its value. In fact, updated kitchens are high on most homebuyers' wish lists. If you ever decide to sell your home in Markham, you're more likely to get the best price possible if the room has been renovated.
Ready to renovate your kitchen? Contact us and let us know how we can help you makeover the space.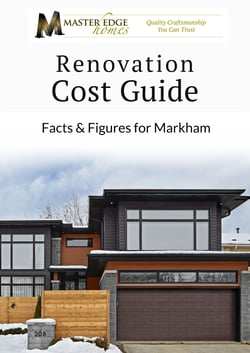 Download Our Free Renovation Cost Guide E-book
Get instant access to renovation cost averages and pricing info for custom kitchens in the Markham area.
"We retained Master Edge Homes to do a whole home renovation in 2018. During the contractor selection process, Dwayne's open and honest approach instilled trust and confidence in us immediately. He really took the worry of a big renovation off our shoulders, handing the details, scheduling, and managing things smoothly. "