Design and Construction in Harmony
Our Design-Build Renovation Services in Markham
In the past, remodeling your home or building an addition involved a three-step process with an architect, interior designer, and a builder. First, you hired an architect or an interior designer to create the vision for your project. After the design work is finished, they would need to work together to find qualified construction companies to submit bids. Weeks later, you reviewed the submitted bids and chose a company to complete the construction work.

DOWNLOAD 2024 RENOVATION PRICING GUIDE
The challenge with this process is that the parties seldom work closely together and often compete to be the only contender, which could make the construction more complicated than it needs to be. Another challenge is that unless the bidders are provided the exact selections such as flooring, kitchen cabinetry, plumbing fixtures, etc., the clients will never be able to compare apples to apples when reviewing the estimates or quotes. Some might include a low allowance for missing items; some might leave those items out of the numbers altogether. This will result in a higher cost at the end of the project. The bait and switch tactic is another risk whereby bidders provide a lower cost and, once the details are selected while the project is underway, the lower numbers initially provided become much more inflated.
Our Design-Build Edge
At Master Edge Homes, we believe that the design-build method is a much better way to renovate and build. The approach eliminates the need for two or three separate companies. Instead, the renovator handles all phases of your renovation. Instead, we look after all your needs, with our entire team working collaboratively to ensure your vision and investment amount go hand in hand.
Our in-house Design Team will work with you to create your architectural designs (for permit acquisition); interior layouts; and decorative selections right down to your toilet paper holder. Along the way, the Design Team will provide estimates to ensure the designs are in sync with the investment amount. There's nothing worse than completing all the designs and submitting for a permit only to find out the cost of creating the vision is beyond your expectations. We will not proceed to the construction phase until you are comfortable with doing so.
The Design Team collaborates with our Construction Team throughout this phase. Our Project Coordinator, who is also part of our Design Team is responsible for ensuring all selections are made and materials are on-site when needed.
These two teams collaborate with each other, but also with our team of licensed and insured trade partners, all of whom meet our exacting quality standards. Of course, you are the most important player on the team! Your input and suggestions help us create the home and lifestyle you so desire.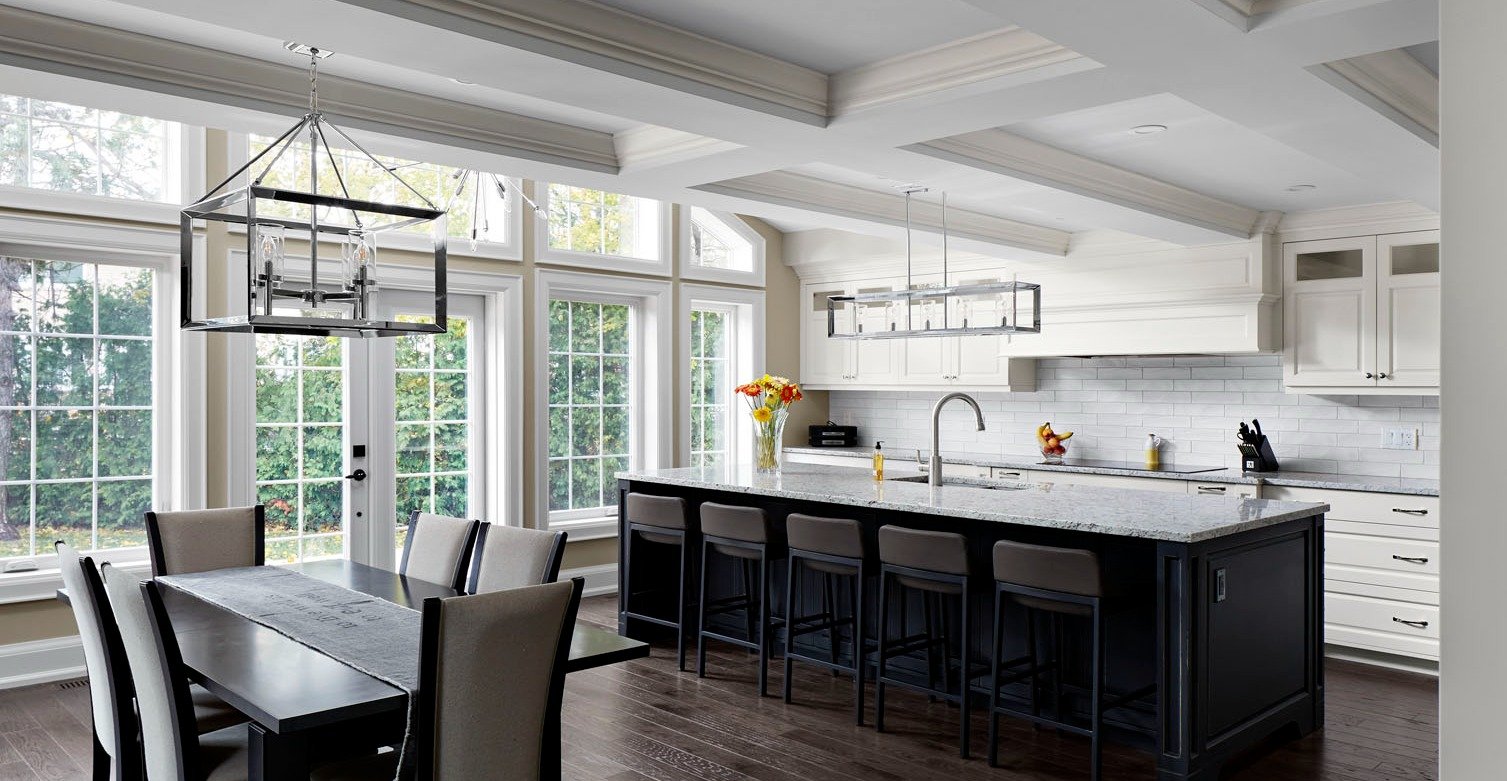 "Before anything else, preparation is the key to success."
Alexander Graham Bell
The Benefits of Our Design-Build Process
The well-planned design has many benefits:
Saves Time: Waiting for contractors to submit bids extends the timeline of your project if you opt for the traditional approach to renovating and building. When you choose a design-build firm instead, the architectural and interior designs for your renovation are shared with the construction team to work out all the nuances of the project from budgeting to timing, and scheduling.
Eliminates Communication Delays: Communication issues between the architect, interior designer, and construction team are a common source of renovation delays. If there's a problem with the design specifications for your project, work can't continue until the construction team talks to the architect or designer. Unfortunately, you never know if the architect will respond immediately or hours later, and generally, once the designs are complete the architect is done. Communication issues aren't a problem when your designer and renovators work on the same team. Team members are in constant contact with each other throughout the entire process and quickly address questions or concerns.
Prevents Costly Design Changes: During a traditional remodel, it's not unusual for renovators to discover that some aspect of the architect's plan just won't work. For example, the architect may decide to open your floor plan by removing the walls between the family room and kitchen. If he or she doesn't realize that the wall is load-bearing, a change will need to be made to the plans. (Load-bearing walls provide crucial support for your home and can't be removed unless they're replaced with a beam or another support system.) In this case, the architect would need to submit an amended plan that would address the issue, which would result in a higher design charge for you.
Fortunately, those types of problems rarely happen when the Design Team and Construction Teams work collaboratively through every phase of the project. Plans are a collaborative effort between the designers and the construction team. Solutions to problems and obstacles are included in the design phase, which saves you money. The design team here at Master Edge Homes has several collaborative meetings during the design phase, as well as meetings with the construction team to make sure everything has been considered prior to construction starting.
Provides More Accurate Estimates: Construction costs vary depending on the cost of materials and the complexity of the design. Building material costs tend to rise and fall depending on supply, demand, shipping prices, and other factors. Although an Architect may be able to give you a general idea of the cost of the construction phase of your renovation or build, his or her estimate almost always ends up being much lower than the actual price tag. The estimate you receive from Master Edge Homes considers current costs for materials and labour. You'll receive an extremely detailed scope of work with a fixed total cost and an allowance breakout for the complete project.

High-Level Expectations of Our Design-Build Process
During the design stage, you can expect:
Design consultations and building permit submissions

A review of all zoning by-laws and requirements

Design consultations with our professional partners and supplier for items such as plumbing, flooring, and cabinetry to determine the level of finishes you want to achieve

Multiple budget reviews to understand the cost associated with the designs that have been created and as they change

Lots of collaboration with the Design Team to ensure all the design details are correct

Several Renderings to help you visualize the space

Building permit submissions

A complete Contract, including a detailed scope of work, allowances, payment schedule, and a 100% price guarantee.
The Construction Phase includes:
Before construction begins, we'll provide 3D drawings, illustrated plans, computer renderings, and elevated plans that will depict exactly your completed renovation.

Planning and coordination of all aspects of your project with your dedicated Project Manager

Bi-weekly on-site meetings with our Project Manager, Project Coordinator to discuss the progress, challenges, and solutions, and any upcoming selections that have not yet been made (like backsplash tiles), etc.

Reputable subcontractors, suppliers, and licensed trades.
Our Client Care System makes it easy to obtain project updates that will keep you informed during every phase of your renovation or build. After we create a unique profile for you, you can use the interactive tool to review the latest updates and schedules, check out photos, make selections, approve change requests, and receive budget updates.
From the moment you first meet with our Design Team until your renovation is complete, you'll receive personalized, top-notch service. If you would like to learn more about our process, get in touch with us and let us know how we can help you improve your home family lifestyle.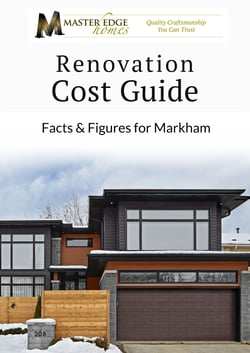 Download Our Free Renovation Cost Guide E-book
Get instant access to renovation cost averages and pricing info for design-build services in the Markham area.
"We retained Master Edge Homes to do a whole home renovation in 2018. During the contractor selection process, Dwayne's open and honest approach instilled trust and confidence in us immediately. He really took the worry of a big renovation off our shoulders, handing the details, scheduling, and managing things smoothly. "
Contact Us
Find out how we can deliver a quality, customized home renovation that you and your family will be proud of.