Create a Relaxing Oasis
Bathroom Renovation Services in Markham
Bathrooms regularly earn top honors when magazines publish lists of the most popular home renovations. Considering some of the bathrooms we've seen over the years, that's certainly not surprising. As experienced renovators, we're prepared for any challenge – from overhauling a Pepto-Bismol pink bathroom, to finding space to create a luxurious master suite, to making the space more adaptive.

DOWNLOAD 2023 RENOVATION PRICING GUIDE
Is It Time to Renovate Your Bathroom?
Not sure if your bathroom needs a makeover? A renovation may be the ideal option if your bathroom is:
An Ancient Relic: Sometimes a renovation is the best way to preserve a vintage bathroom. We'll repair or restore the features you love and add modern amenities that fit right in with the classic style of your home.
Falling Apart: If you've become friends with your plumber and handyman because you see them so much, your bathroom is probably due for a renovation. Your renovation is the perfect time to upgrade plumbing and faulty wiring, install new flooring and walls, or replace your damaged floors or water-guzzling toilet.
So Last Century: Bathroom trends change so quickly that a room that's 10 years old may already be out of date. Luckily, we can help you update your bathroom to reflect your style and take advantage of current trends and technology.

We will also ensure it remains functional for years to come.

The Size of a Closet: Some bathrooms seem to have taken the water "closet" description. If your bathroom is cramped and unappealing, we can borrow space from another room to create a spacious bathroom where there's more privacy and allows more people to use the bathroom at a time.
Adaptive Space: Nobody plans to require walkers or wheelchairs, but age, accidents, or ailments may bring these needs forward. If your, or someone you love, needs have changed, we can design and create s space suitable (or livable, or accessible) for all.
Our Bathroom Renovation and Design Services
The bathroom renovation process starts with a visit to your home. We'll take a look at the bathroom (or bathrooms if all of your bathrooms need an overhaul), and spend some time getting to know you and your family.
Ideally, your new bathroom should be everything your current bathroom isn't. During our meeting, we'll ask you to share the things you don't like about your bathroom and the features you'd like to see in your renovated space. We'll also spend time exploring your preferences for features, finishes, and fixtures. (If you've been collecting or bookmarking photographs of your dream bathroom for a few years, we'd love to see what types of bathrooms and features appeal to you.)
Once we understand what you want, we'll begin the design phase of the project by creating a layout for your bathroom. Creating an aesthetically pleasing design starts with determining the ideal placement of fixtures, features, and lighting. That may require moving or adding plumbing or electrical lines to accommodate your new bidet, chromotherapy tub, or wine chiller. Figuring out technical details or all structural requirements during the design phase prevents costly delays during the construction stage of your bathroom renovation.
When we're satisfied with the design, we'll ask you to take a look at it using our software, we'll create a 3D photorealistic rendering that will bring your new bathroom to life. After seeing the 3D schematic, you might decide that you'd like a bigger shower or realize that double sinks might be a better option for the kids' bathroom. After we make the changes you want, you'll review the architectural design again.
Once the schematic is approved, the fun begins the Interior Designer helps to select finishes. Over the next weeks or months, a steady stream of our employees and subcontractors will arrive at your home to complete the work. During the renovation, you'll receive regular updates and, of course, can contact us anytime to ask questions or share concerns.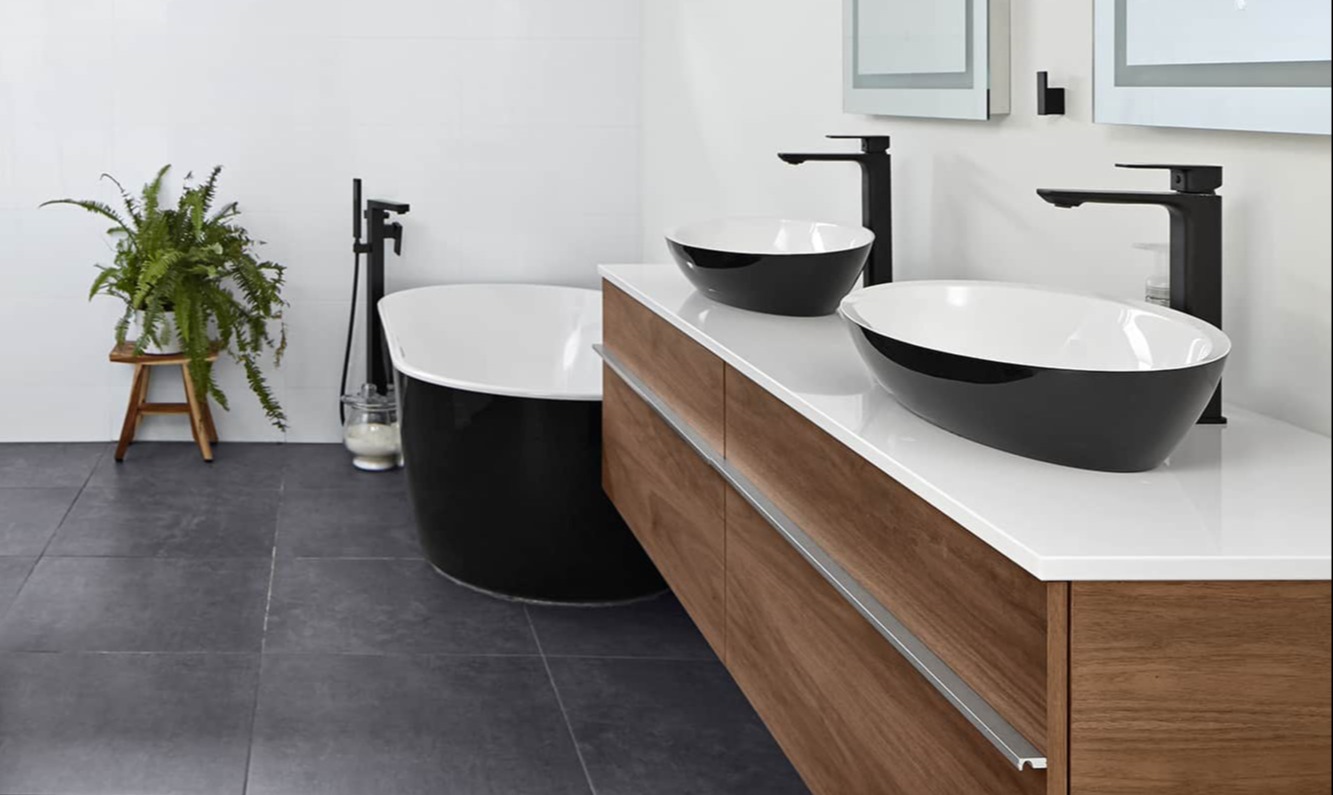 Common Bathroom Renovations
One or more of these renovations may offer the ideal way to upgrade your home:
Master Bath Upgrade: Update your master bath with the latest luxurious features or expand a too-small master bath. Do you dislike your shower/bathtub combination? We'll create a design that features a generously sized steam shower renovation and separate soaking tub to make the room feel like your own home spa.
Hall Bathroom Refresher: Give your family bathroom a much-needed overhaul with storage for every family member, and a soaking tub, shower stall, and water-saving, motion-activated faucets.
Adaptive Bathroom: Can't imagine ever living anywhere else? The addition of a first-floor universal design bathroom will make aging in place much more comfortable. Upgraded lighting, grab bars, slip-resistant flooring, curbless showers, higher toilets, and other features improve the accessibility and safety of your bathroom.
New Guest Suite: Want to create a special place for your guests? Add a bathroom to your guest bedroom to create the ultimate guest suite.
Do you have a few ideas for your bathroom renovation? We're here to help you turn your dreams into reality.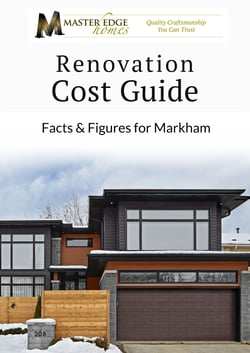 Download Our Free Renovation Cost Guide E-book
Get instant access to renovation cost averages and pricing info for custom bathrooms in the Markham area.
"We retained Master Edge Homes to do a whole home renovation in 2018. During the contractor selection process, Dwayne's open and honest approach instilled trust and confidence in us immediately. He really took the worry of a big renovation off our shoulders, handing the details, scheduling, and managing things smoothly. "
Contact Us
Find out how we can deliver a quality, customized home renovation that you and your family will be proud of.