Complete Modern Cottage Renovation
The walnut beams! The new layout! The view! Renovating a cottage to modernize its features while preserving its original charm is always a rewarding journey for design-build renovation. Today, Master Edge Homes of Markham, Ontario is proud to showcase a project that breathes new life into a slab on grade cottage that was in desperate need of an update due to a leaky roof and other structural issues after years of love and use.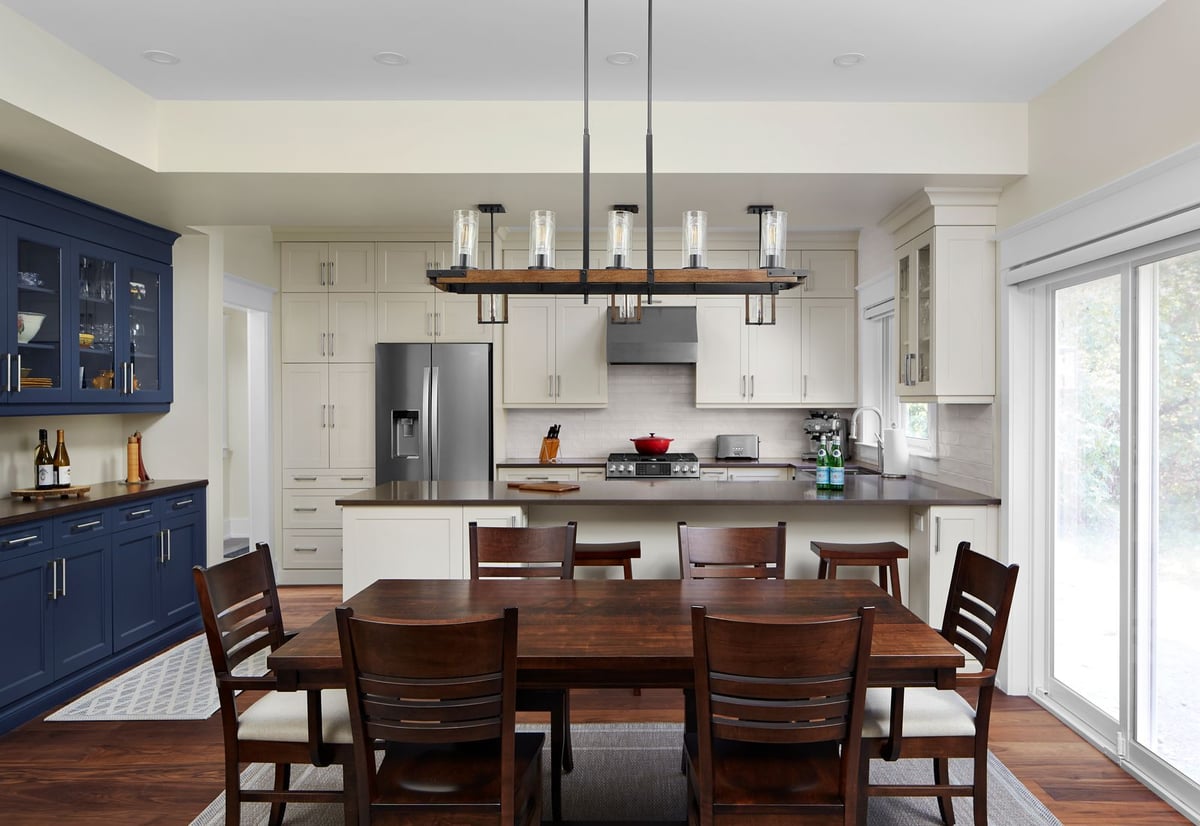 A Breath of Fresh Air: Meeting Homeowner Goals
A renovation, especially a major renovation like this one, should address the needs and aspirations of homeowners. For this project, the objective was clear: maintain the cottage's innate ambiance while offering an upgraded, more comfortable living space with seamless integration of natural surroundings. Key to this transformation was the strategic placement of windows and a reimagined floor plan and addition, ensuring uninterrupted views of the picturesque Rouge River – a treat for any nature lover.
Aesthetic Allure: Unique Design Elements
No two homeowners are alike, and neither should two renovations be. For this particular cottage, we placed a significant emphasis on exterior appeal. The addition , to the left of the front door, looks as if it was always part of the original building. We incorporated dormers, meticulous crafting of roof lines, and thoughtful fenestration, allowing for optimal placement of internal structures like stairs and plumbing.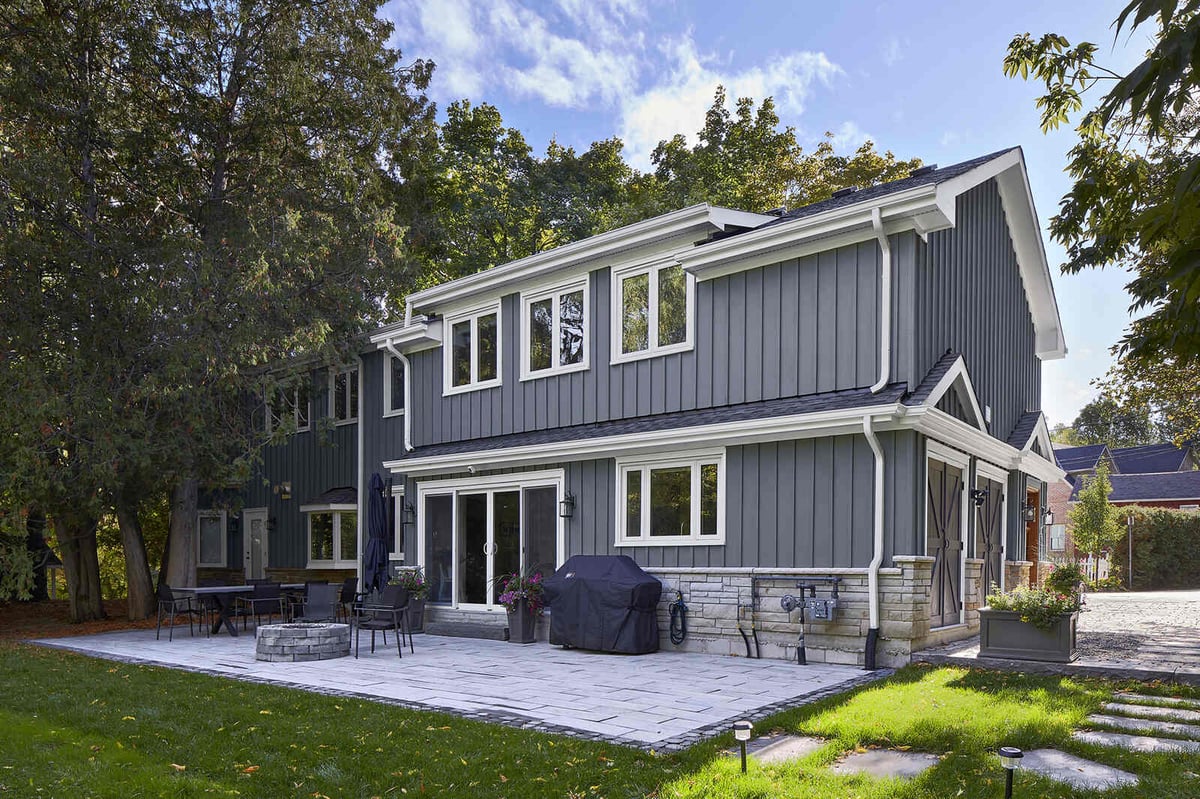 From a design perspective, we embraced cottage interior ideas that celebrate and balance heritage and modernity. In keeping with heritage by-laws, the exterior palette harmonizes with the homeowner's taste and the historic charm of the area, offering a fresh yet timeless appeal. Large main-floor windows and dormers effortlessly synchronize with the original structure, making it seem as though the second-floor cottage addition has always been a part of the home.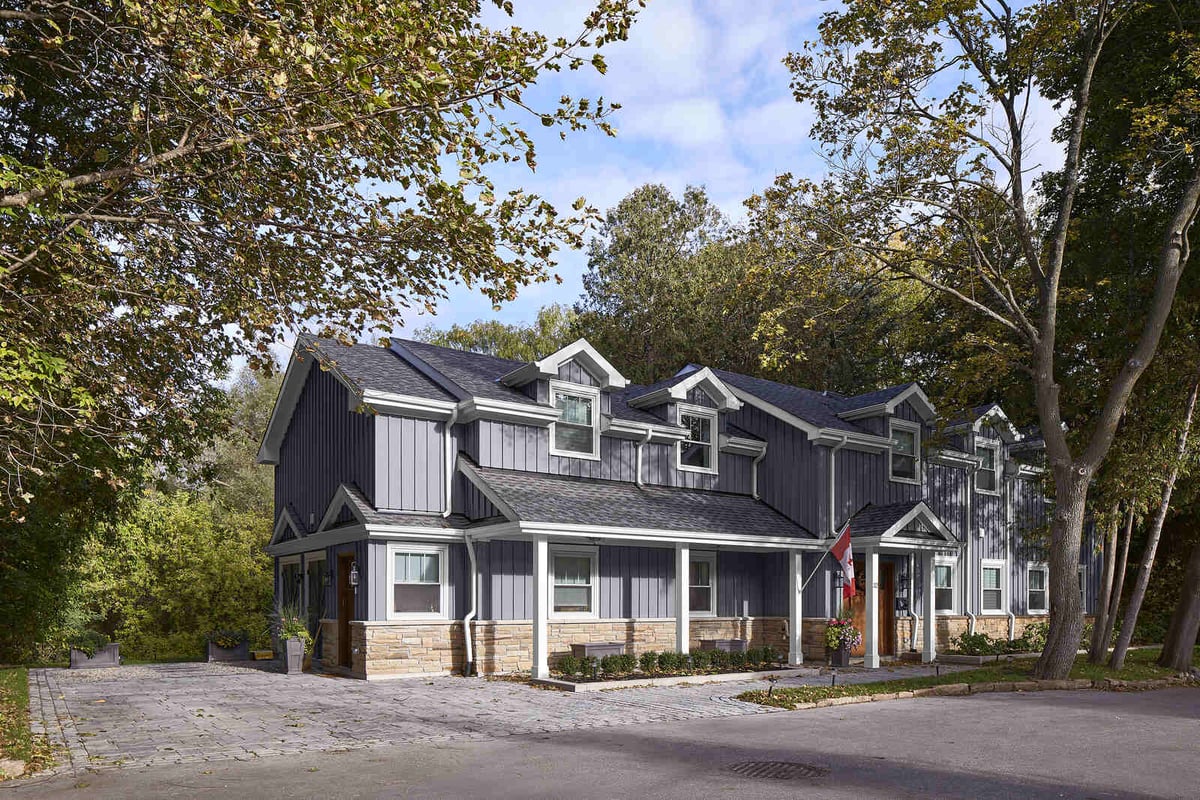 Inside, the newly-located spacious modern cottage kitchen welcomes all with a bold blue beverage bar contrasting with neutral primary cabinets. Combined with walnut flooring, a stacked stone fireplace, and a walnut mantel beam, the first-floor interior exudes the warmth and charm befitting of a cottage retreat. We especially love the new staircase, now an architectural feature surrounded by classic beadboard, an homage to cottage home interior design.
Space and Functionality: The Modern Cottage Living Experience
Our approach to updating a cottage isn't just about looks; it's about practicality too. We transitioned from the old one-storey addition to a two-storey marvel, introducing fluidity and openness to the space. A dedicated sound-proofed family room, a common study space with built-in workspaces, and an upper-level private primary suite illustrate a masterful balance of privacy and community.
Beyond the beautiful cottage interiors, the functionality updates included moving the laundry room to the upper floor and introducing a proper staircase to the crawl space, ensuring ease of access for maintenance.
Wondering what a renovation might cost? Our complimentary cost guide gives you the details you need whenever you're ready.
Bringing the Outdoors In: Harmonizing With Nature
One of the standout aspects of this cottage renovation was the emphasis on fostering a close connection with the surrounding natural beauty. With the Rouge River in proximity, it was essential to create sightlines that would allow the homeowners to immerse themselves in the tranquil river views daily. We repositioned the kitchen and dining room, traditionally the heart of any home, to offer an unobstructed panorama of the water. It's not just about looking out; the redesigned layout ensures that the home is bathed in abundant natural light, casting a warm, inviting glow on the walnut flooring and enhancing the beach-inspired ensuite. Every design decision, from the colour palette to the textiles, was made with the intention of blurring the lines between indoor comfort and outdoor serenity. The result? A home that feels like a perpetual retreat, harmoniously intertwined with nature's beauty.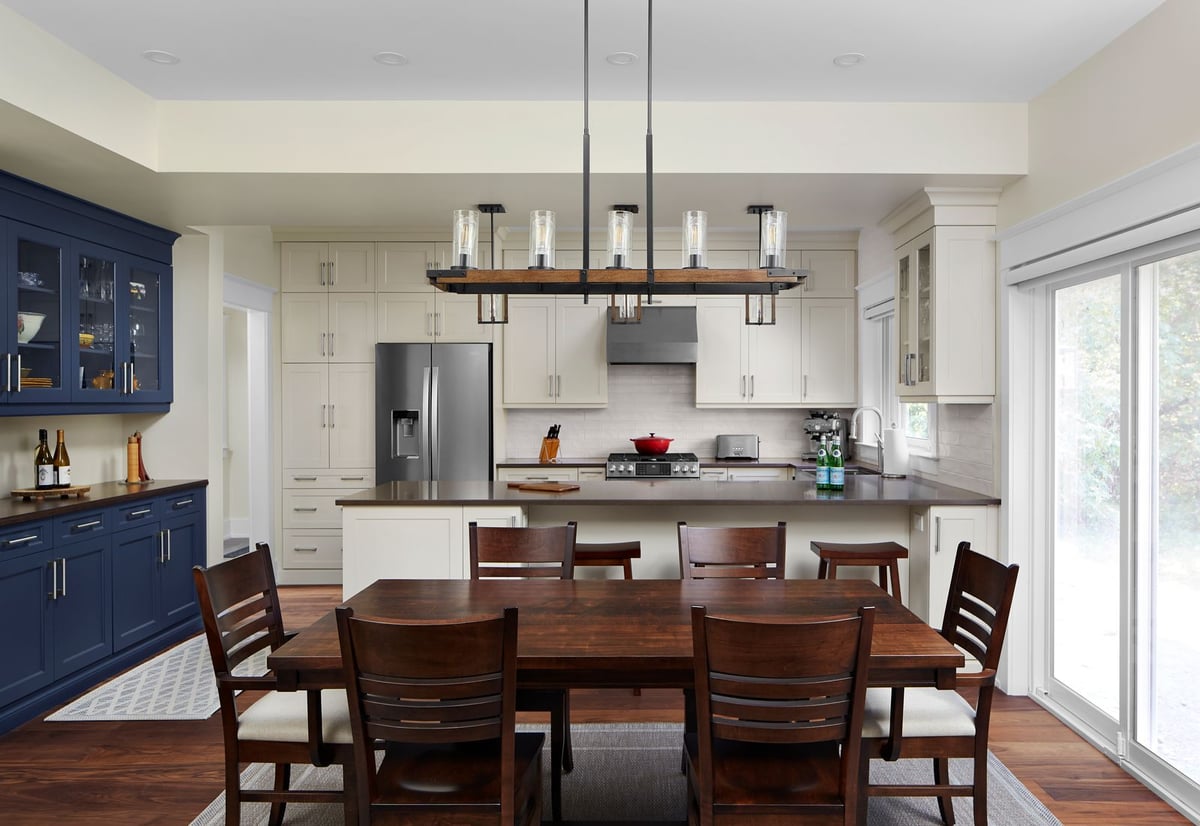 Challenges Overcome: Regulatory and Structural
As with any cottage renovation, especially one that involves an extension on a cottage, challenges abound. Located on a flood plain, we engineered this cottage to withstand the effects of a 100-year flood. Moreover, due to the property's historical relevance, liaising with multiple governing bodies, including the Heritage Committee, the Toronto and Region Conservation Authority, and others was vital. Thanks to our in-house designer's dedication and expertise, we seamlessly navigated these requirements.
The structural challenge arose from the original ceiling joists, which, after a past renovation, were inadequately serving as floor joists. Resolving this required major restructuring, including elevating the second floor for proper height and ductwork accommodation.
Green and Modern: Boosting Efficiency
Modern cottage renovation ideas focus as much on energy efficiency as they do on aesthetics. By replacing the electric heating system with a high-efficiency furnace, exterior insulation, spray-foaming the original walls, increasing attic insulation to R60, and replacing all doors and windows, we ensured a marked improvement in energy performance, comfort, and health benefits.
Is it the right time to start on your own cottage renovation? Learn why now is the best time to get started.
A Successful Renewal
This project stands as a testament to what is achievable when traditional charm meets modern innovation. It's more than just a cottage renovation; it's a comprehensive reimagining of space, style, and sustainability.
Whether you're seeking cottage renovation ideas, curious about modern cottage living spaces, or wondering how to make an old cottage look modern, our cottage transformation offers a plethora of inspiration.
At Master Edge Homes, we pride ourselves on offering in-house design and construction solutions for peace of mind renovations. From shower and tub ideas inspired by serene beaches to luxurious marble shower tiles and so much more, we're here to help you reimagine, renovate, and revel in your dream space. Is now the right time to get started? Let's explore the benefit of starting your renovation now. Let's connect today to get started!