Universally Designed Kitchen & Bath
In today's architectural landscape, the importance of creating home spaces that aren't just beautiful but also highly functional and adaptable cannot be stressed enough. For homeowners in Markham, Ontario, the challenge often lies in optimizing their living spaces to accommodate every family member, from young ones to seniors. The principles of universal design stand as a testament to this approach – creating interiors that are accessible and usable to all, irrespective of age, size, or ability. At Master Edge Homes, we recognize the transformative power of such designs, especially when they seamlessly blend aesthetics and utility. That's why Master Edge Homes is a Qualified Adaptiv Home Professional. This spotlight focuses on one such project, where Master Edge Homes innovatively renovated this family home to not only echo the warmth of cherished memories but also to ensure it stands ready for the years and changes to come.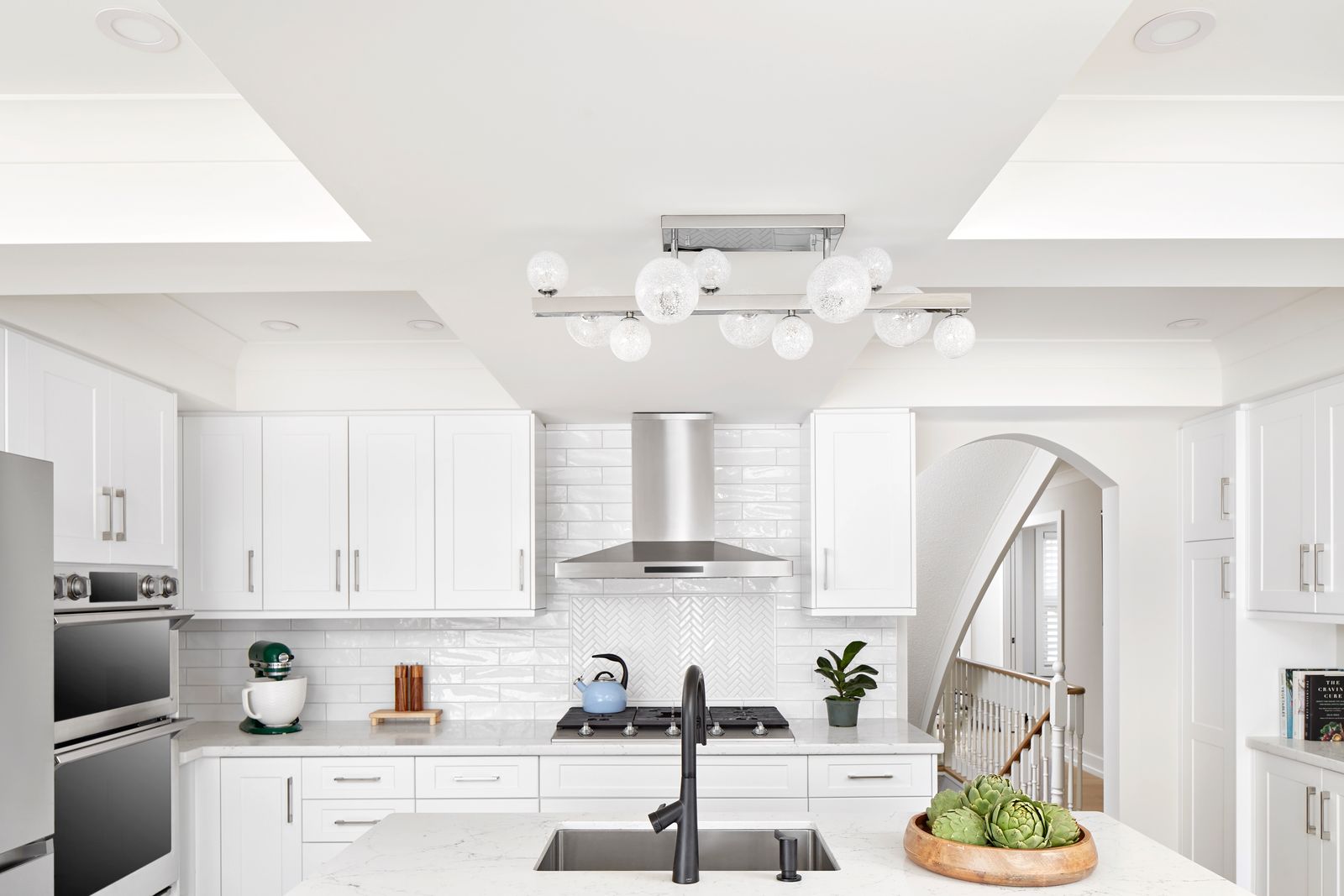 Understanding Universal Design
At its core, universal design aims to create spaces that can be accessed, understood, and used to the greatest extent possible by all people without needing adaptation or specialized solutions. Let's break it down with some essential features. You'll notice many of these principles in action as we review the project below.
Flexibility in Use: The design accommodates various individual preferences and abilities. For instance, a kitchen that can be used by a tall individual, a child, or someone in a wheelchair exemplifies this principle.
Simple and Intuitive Use: The design is easy to understand, regardless of the user's experience, knowledge, or cognitive ability. This might translate to easily recognizable shower controls or appliances that are straightforward to operate.
Tolerance for Error: This anticipates accidental or unintended actions and ensures that the design minimizes hazards. For example, shower grab bar placement is designed to provide support if someone slips.
Welcome to Universal Design Done Right
By embracing the principles of universal design and integrating them with the client's vision and aesthetic preferences, this home has been transformed into a welcoming space for all, combining elegance with functionality. Whether hosting a large family event or enjoying a quiet evening by the fire, this living space is prepared to adapt to the needs of its inhabitants for years to come.
The Living and Dining Transformation
As families evolve, so should the spaces they inhabit. One of the hallmarks of universal design is its emphasis on creating spaces that are adaptable to a variety of needs over time. With our client's vision in mind, transforming the sunken living room was paramount. Not only did it provide an elegant solution for current needs, but it also forecasted future requirements.
We raised the previous living room, instantly expanding the available space and turning it into a lavish dining area designed for cherished family dinners and large gatherings. The seamless blend of form and function is evident in every corner of this space. The pristine white walls adorned with geometric wainscoting add depth and character, setting a tone of sophisticated charm. Coupled with the dramatic white pendant lights, they work together to offer layered illumination, essential for setting various moods.
However, what stands out in terms of both aesthetics and universal design principles is the inclusion of expansive double pocket doors. These doors are not mere architectural details; they have a broader purpose. Their width has been deliberately chosen to ensure accessibility for any sized mobility device, from wheelchairs to potentially even hospital beds, making them perfect for individuals who prioritize aging in place. This thoughtful addition reinforces the idea of a home that evolves with its inhabitants, allowing for smooth transitions in life's various phases.
The living room fireplace underwent a significant upgrade, becoming a focal point of the room. Not only does it add warmth, literally and aesthetically, but with the new surround and built-in shelves, it also offers space for displaying treasured family mementos. We installed engineers hardwood flooring that mimics white oak throughout the main level, including the living space, provides a durable surface (an especially crucial feature considering the potential wear and tear from mobility aids), and adds to the aesthetic appeal of the room.
Optimizing the Kitchen with Universal Design
Ensuring this vital space is functional and accessible for everyone is paramount, especially when considering long-term use and adaptability. With our expertise at Master Edge Homes, we've seamlessly integrated universal design principles into the kitchen renovation, making it both stylish and efficient.
Two-Toned Shaker Cabinets: The cabinetry plays a pivotal role in determining the functionality of a kitchen. The deep blue on the island offers a refreshing contrast against the surrounding white cabinetry. Not only aesthetically pleasing, but the choice of shaker cabinets also adds an element of tactile appeal, essential for those with visual impairments.
Accessible Cabinetry & Appliances: Universal kitchen cabinets are designed for easy reach, with pull-down shelves, lazy Susans, and touch-latch opening mechanisms. The positioning of appliances at comfortable heights reduces the need for bending or overstretching.
Adaptive Kitchen Island: The kitchen island houses a sink, provides additional counter space, and also offers seating. Its height ensures it's usable by everyone, whether standing or seated in a mobility device.
Statement Lighting: The bubble lights above the island not only serve as a design feature but also ensure ample illumination, critical for tasks like cooking and chopping. Proper lighting can significantly reduce the risk of accidents.
Backsplash with Flair: The white gloss subway tile backsplash is easy to clean and offers a visual break, aiding those with visual challenges. An accent of herringbone smaller white glossy tiles over the range introduces texture and style.
Easy-to-Use Appliances: Universal appliances in the kitchen prioritize safety and ease of use. Features might include front or side-mounted controls, easy-grip handles, or auditory and tactile feedback mechanisms.
Open Floor Layout:

One of the key features

of a functional kitchen layout is ensuring ample space for maneuverability. The open design allows for easy movement, whether someone is pushing a baby stroller or using a walker.
Creating a Universal Design Bathroom
Bathrooms can often present challenges for seniors and individuals with mobility issues. However, with thoughtful design and strategic modifications, it's possible to craft a space that's both functional and stylish. Master Edge Homes applied our knowledge of universal design to transform this bathroom into a space that promotes safety, comfort, and elegance.
Adaptive Floor Plan: By converting the two-piece powder room into a more expansive three-piece bathroom, we've ensured ample space for easy navigation and comprehensive main-floor living options for the future. Wide pathways and clear floor areas accommodate mobility aids, making it effortless to move around.
Walk-in Shower with Safety Features:

The walk-in shower,

fitted with frosted glass doors, provides a modern touch while ensuring easy access. In-shower seating and inset storage make for a comfortable showering experience. The muted greys, including the large-format wall tiles and small grey tiles on the shower floor, bring sophistication. Multiple shower heads and strategically mounted grab bars offer washing flexibility and security.
Strategic Lighting and Privacy: The clerestory window introduces abundant natural light, vital for visibility and task lighting. Its positioning also guarantees privacy, a crucial factor in bathroom design.
Accessible Fixtures and Fittings: Lowered countertops and accessible cabinetry ensure that everything is within easy reach, whether standing or seated. The use of lever-style handles on fixtures makes them easy to operate, even for those with limited hand strength.
Prepared for the Future: Ready-made with grab bars and other safety features, this bathroom is future-proofed, allowing homeowners to age gracefully without the need for extensive modifications down the line.
Master Edge Homes Makes Dream Homes Real
Adapting a home to accommodate the ever-evolving needs of its inhabitants is more than just a construction project; it's an investment in the future. It's about foreseeing challenges and meeting them head-on, ensuring that every corner of the house exudes comfort, safety, and style. At Master Edge Homes, our commitment to universal design and the principles of adaptiv living ensures that our projects are not just about aesthetics but about crafting spaces where memories can be made, cherished, and relived. If you're looking to make your home a beacon of functionality without compromising on elegance, let's embark on that journey together. Reach out to Master Edge Homes and let us bring your vision to life.