Timeless Home Renovation in Toronto's the Beach
Step back in time and imagine a charming late 1800s home. Now, fast forward to the present, where this historical gem has undergone a breathtaking renovation transformation, marrying centuries of history with the allure of modern luxury. Master Edge Homes invites you to explore our captivating project spotlight, where we unveil the remarkable journey of reviving this timeless residence into a contemporary oasis. Join us as we explore the challenges, triumphs, and extraordinary design details that have turned this house into a true masterpiece.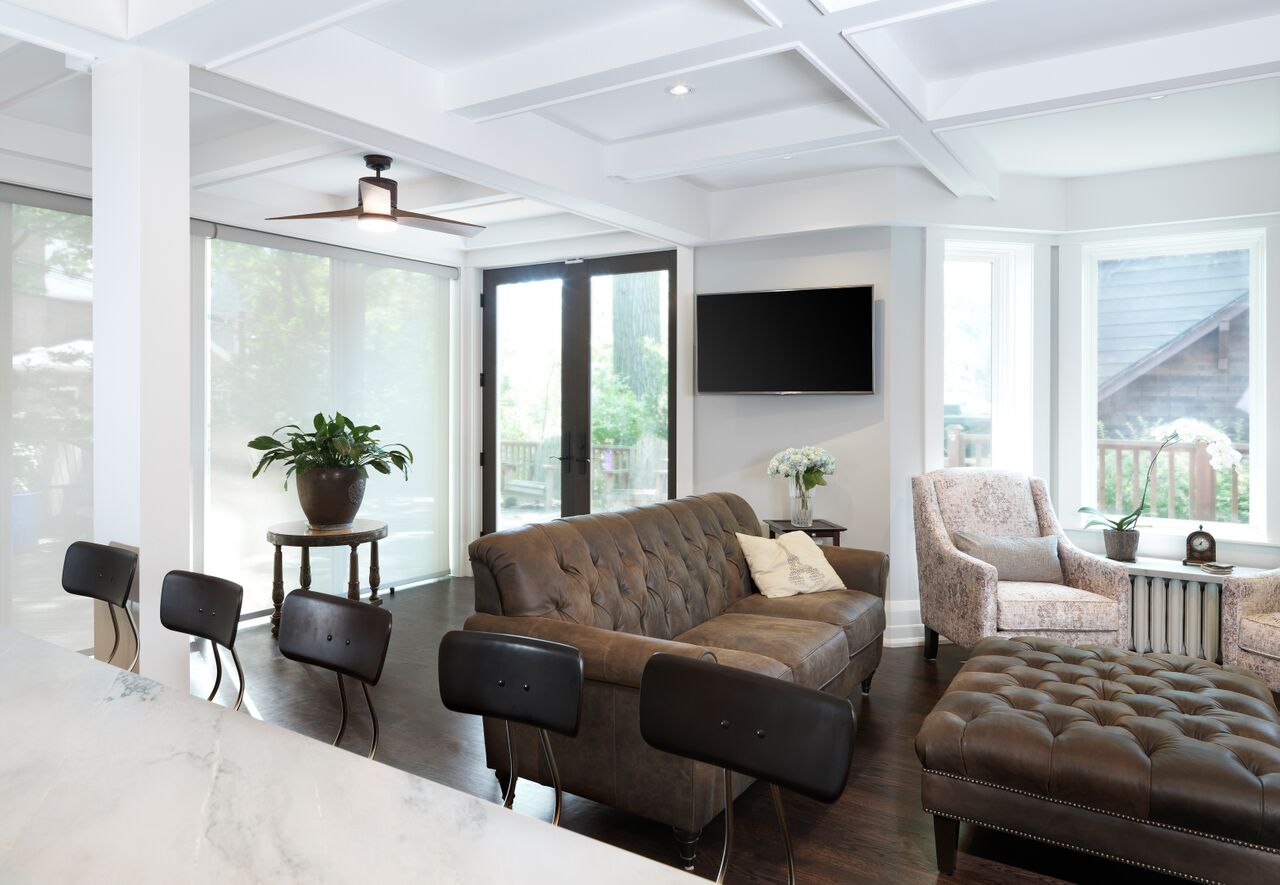 An Efficient and Attractive Main Floor Renovation
To bring this vision to life, we began by completely gutting the main floor and replacing load-bearing walls with steel beams, ensuring a structurally sound and open layout. We also upgraded the insulation to meet current code standards and installed thermal windows throughout, enhancing energy efficiency and comfort. While maintaining the original size and entrance ways of the front room, we widened the basement staircase and adorned the main floor with beautiful site-finished hardwood flooring.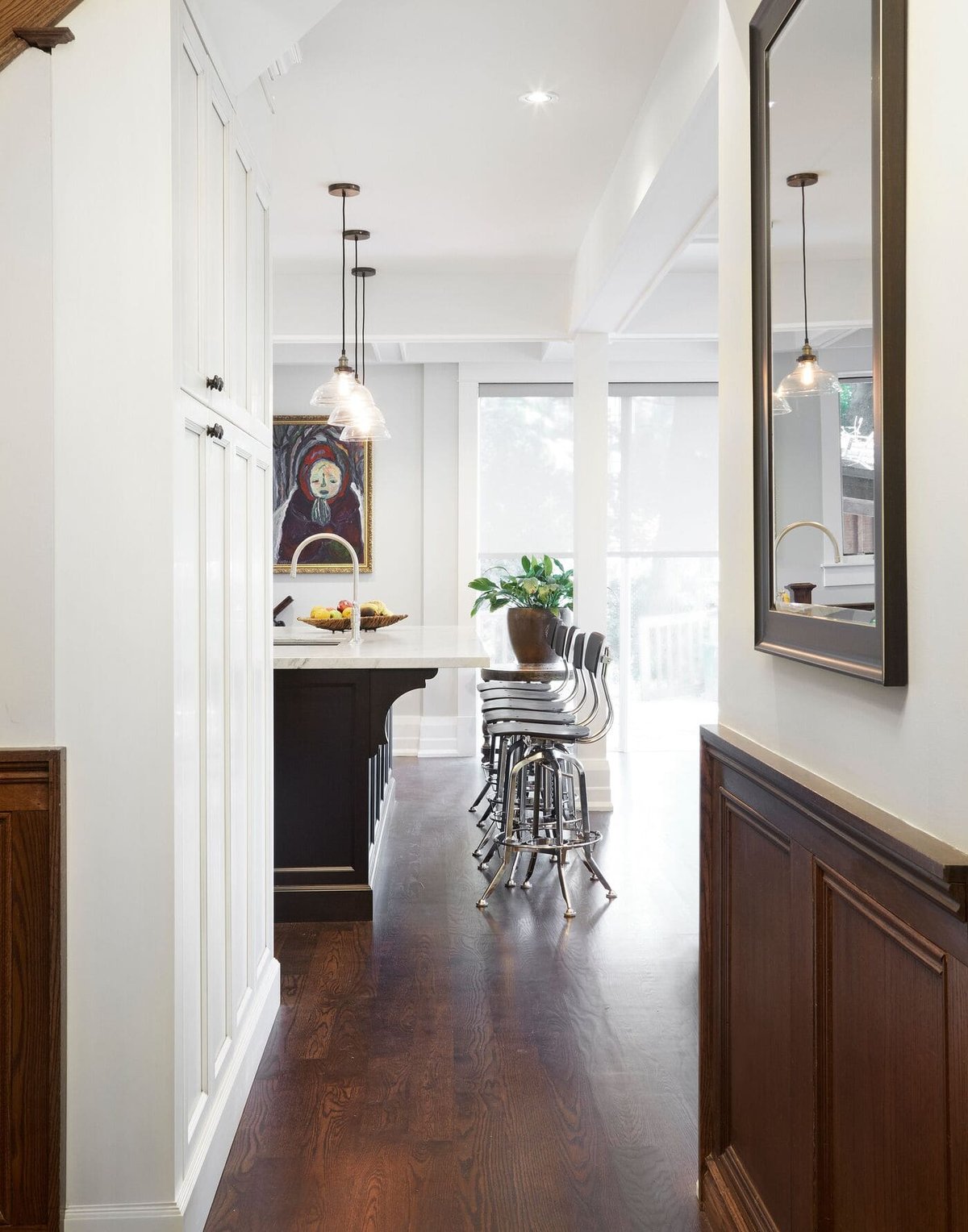 Light and Bright
Creating a bright and inviting atmosphere was paramount in this renovation. We incorporated floor-to-ceiling thermal glass panels in a large section of the exterior wall, offering a panoramic view of the exquisite backyard landscaping. The main floor now boasts a cheery white colour scheme that elevates the space into a naturally-lit oasis. With the newly imagined kitchen and two bedrooms featuring tailored built-ins for home office spaces, the rooms are airy, light-filled, and functional for today's tasks.
Kitchen Bliss
This renovation showcases a true culinary masterpiece. We installed custom cabinetry, opting for white shaker-style cabinets on the surrounding walls and striking black cabinets on the island, topped with the same marble used for the radiators in the living space. The kitchen features a dual-purpose island with a sink, ample prep space, and seating. We've tucked the refrigerator behind a sleek cabinet door and finished the cabinets and kitchen drawers with attractive cup pulls and knobs. A custom range hood, dual inset oven, and high-end chrome appliances complete the picture. The natural stone subway tiles provide a neutral backdrop with subtle colour variations, adding depth and character to the space.
Transitional Details to Respect Heritage Style
Respecting the historical charm of the original home while infusing it with modern elements required meticulous attention to detail. Period lighting fixtures, classic materials, and a thoughtful colour palette maintain the warmth and character of the house while ensuring functionality within the kitchen. Elaborate trim details, coffered ceilings, and wainscoting create a sense of continuity throughout the ages, allowing the space to exude timeless elegance.
Bathroom Beauty
The primary bathroom in this home embraces the concept of a wet room, featuring large format tiles on the floor and walls. This space is perfect for every life stage, including caring for kids and aging in place. It boasts a stunning freestanding soaker tub with a floor-mounted faucet, a transitionless walk-in shower with dual shower heads, and luxurious gold plumbing fixtures. A floating white vanity with smooth modern cabinet doors adds a sleek touch to the space. A second bathroom follows suit with a frameless glass shower and a neutral colour scheme, exuding simplicity and sophistication.
Laundry Room Love
The laundry room showcases vibrant cobalt blue custom cabinets that steal the show. Paired with an ample sink and work space and complemented by blue patterned ceramic tiles, this room merges practicality with style, making laundry chores a more delightful experience.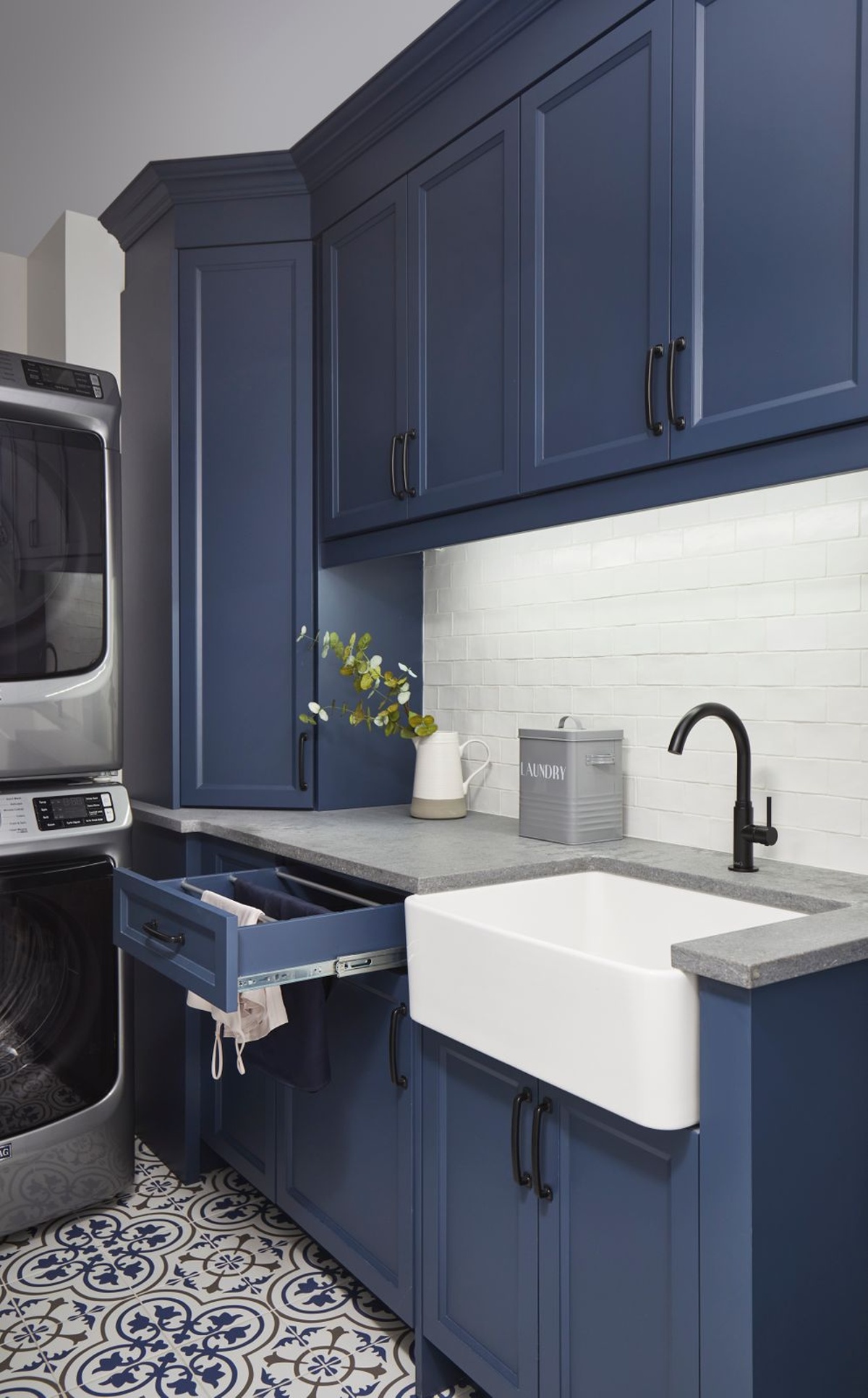 Updates for the Modern Age
Storage was a crucial consideration in this renovation, and we optimized every nook and cranny. We utilized the space above the stairwell to create ample storage, maximizing the functionality of the hidden space. Additionally, a new walk-in closet off the primary bedroom features rich wood and custom-built-ins, ensuring ample storage for clothing and accessories.
Insulation was another priority for our client, and we replaced all the original single-paned windows on the main floor with thermal vinyl windows. The newly framed walls were insulated to meet the 2015 Building Code insulation values, ensuring energy efficiency and comfort.
Curious about the cost of this renovation or the one you've got planned? Our cost guide breaks it down.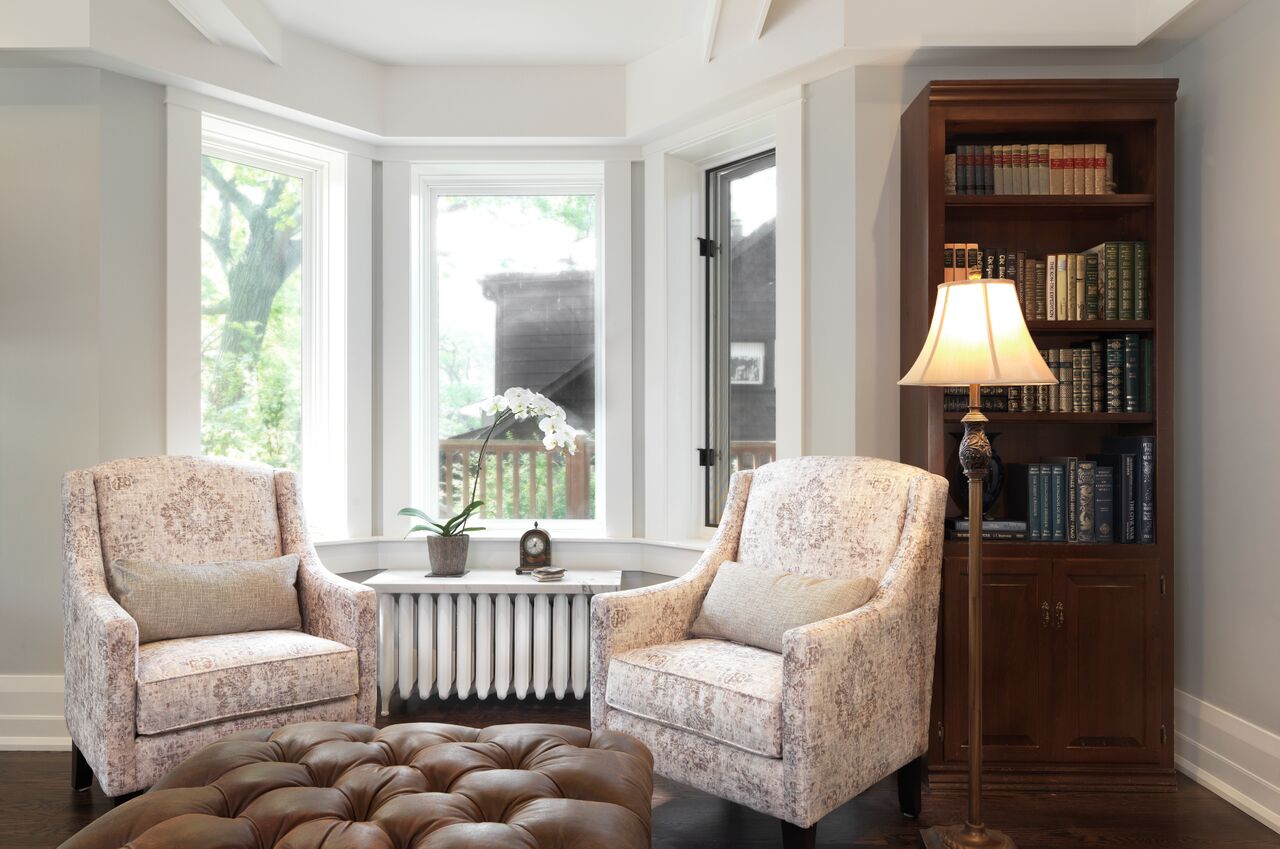 Old Home Challenges Masterfully Addressed
No home renovation is without its challenges, and this project was no exception. One notable obstacle was a 12-inch block wall on the second floor that needed to be removed to create an open-concept area. We skillfully navigated this challenge, ensuring minimal impact on the rest of the structure. Additionally, we successfully secured bathroom fixtures, such as vanities, mirrors, and electrical and plumbing components originally fixed to the demolished wall, to new walls, maintaining both functionality and aesthetics.
Another challenge arose with the steel beams, which were positioned below the ceiling level. Undeterred, we maintained our client's open-concept vision and incorporated coffered ceilings, adding intricate detail that seamlessly blends with the historical nature of the home.
We've selected this project spotlight because it exemplifies Master Edge Homes' commitment to creating remarkable transformations while preserving the essence of historic homes in our Markham, Ontario service area. Our expertise in whole-home renovations shines through as we masterfully combine modern luxury with the charm of the past. If you're dreaming of a complete home renovation that reinvigorates your space while respecting its history, contact Master Edge Homes today.